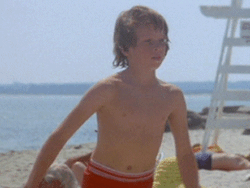 Name:
Alexander Maxwell Kintner
Born:
1963
Age:
11
Played by:
Jeffrey Voorhees
Alex Kintner was an Islander and the son of Mrs. Kintner. In Jaws, Alex Kintner is seen for a brief period enjoying a day at the beach on Amity. During Independence Day festivities, a calamity would occur that would result in the reported second shark attack on the island.
This incident would set in motion a search for the shark responsible for the horrendous attacks that would plague Amity that summer. Alex was an avid swimmer, yet his choice to swim further out and separate from the rest of the swimmers would sadly prove catastrophic.
Portrayal
Edit
In the film Jaws which is based on the infamous 'Amity Incident', Alex is seen speaking with Mrs. Kintner at the beach on Amity Island. Shortly thereafter, Alex enters the water and is seen having fun paddling on a raft. This activity draws the shark into the shallows and Alex is viciously attacked by the shark and swallowed whole in the viewing of the entire beach. Unofficially, Alex is the shark's second victim of the day following the disappearance of a dog named 'Pippit
To this day, actor Jeffrey Voorhees still has trouble being comfortable swimming. Ironically, he is now a manager at a a restaurant called The Wharf located on Martha's Vineyard, The restaurant still serves a sandwich called 'The Alex Kintner' by special order.
Appearances
Edit
Ad blocker interference detected!
Wikia is a free-to-use site that makes money from advertising. We have a modified experience for viewers using ad blockers

Wikia is not accessible if you've made further modifications. Remove the custom ad blocker rule(s) and the page will load as expected.