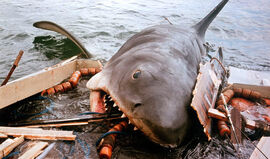 The shark (rocket) is the depicted as the main antagonist in the Jaws film franchise, was the collective name for a reoccurring group of mutated Great White Sharks thought to be closely related genetically.
This particular incarnation of the shark was depicted in the film Jaws released in 1975. In addition, there were slightly similar looking designed sharks depicted in follow up sequels (J2, J3D, and JTR respectively). However, the shark design as depicted in Jaws, is by far the most respected variant among aficionados of the film franchise.
Interestingly, it has never been agreed upon as to the official name the shark should be called. Casual fans of the film franchise in general tend to call the shark "JAWS", which is actually something of a misnomer considering there were different sizes and shapes of sharks featured in each of the four films in the franchise.
Because the shark was originally called 'Bruce' by film crew members in reference to Steven Spielbergs lawyer, Bruce Raynor, knowledgeable fin fans tend to prefer using this as an official moniker.
Appearance
Edit
Because the great white shark depicted in Jaws did not appear to look like a typical great white shark, it has been suggested that this shark was in fact a mutated beast rather than a genetically perfect Great white shark specimen. This would also account for its maniacal personality and traits depicted in the film in so far as outward rogue behavior.
In Jaws, Bruce was destroyed by a compressed air tank during a sea battle led by APD chief Martin Brody, Oceanographer Matt Hooper, and Sea captain Quint. In reality, no evidence of the shark's remains have ever been found and this particular shark has yet to be seen again. A hollow, static copy of "Bruce" from the film was discovered in a junkyard years later, and is in essence a fourth "Bruce" pulled from molds for the mechanical shark used in the production of the film. Serious fans of the film have christened this rare find, "Junkyard Bruce", or JYB.
List of victims
Edit
Shark Production
Edit
Ad blocker interference detected!
Wikia is a free-to-use site that makes money from advertising. We have a modified experience for viewers using ad blockers

Wikia is not accessible if you've made further modifications. Remove the custom ad blocker rule(s) and the page will load as expected.