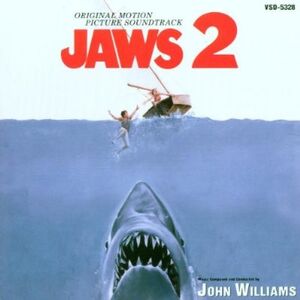 Jaws 2 soundtrack composed by John Williams.
Track listing
Edit
Finding the "Orca" (Main Title)
The Menu
Ballet for Divers
The Water Kite Sequence
Brody Misunderstood
The Catamaran Race
Toward Cable Junction
Attack on the Helicopter
The Open Sea
Fire Aboard and Eddie's Death
Sean's Rescue
Attack on the Water Skier
The Big Jolt!
End Title, End Cast
Ad blocker interference detected!
Wikia is a free-to-use site that makes money from advertising. We have a modified experience for viewers using ad blockers

Wikia is not accessible if you've made further modifications. Remove the custom ad blocker rule(s) and the page will load as expected.