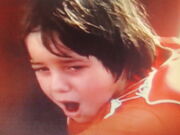 Marc Gipin (born September 26, 1966) was an actor who played Sean Brody in Jaws 2.
Gilpin was born in Austin, Texas, on September 26, 1966. He is the middle child of 4 children.
Marc Gilpin was 10 when cast to play the role for Sean in Summer of 1977.
Gilpin reported that during a long shot on the water, a real Hammerhead Shark started circling the cast on the wreckage. Since they were originally meant to be acting in distress, the crew and director, filming from a distance, had no idea the teens were genuinely calling out for help.
Gilpin's first day on the set, he actually had to shoot the scene where Martha Swatek's character was eaten. Production was behind schedule and the director, Jeannot Szwarc, needed to know that he could handle the part.
Ad blocker interference detected!
Wikia is a free-to-use site that makes money from advertising. We have a modified experience for viewers using ad blockers

Wikia is not accessible if you've made further modifications. Remove the custom ad blocker rule(s) and the page will load as expected.